WCBR Community Outreach

We care about our community! Each year, WCBR participates in numerous events to help raise awareness about community needs and to help raise funds needed to support community organizations. Here's an overview of our current activities:
Our Blue Bag Project helps local community food shelves keep their shelves stocked.  Quarterly our members fill Blue Bags with food donations and cash and we donate to a local food shelf, rotating to different communities within Windsor County.
The Board helped with the 5K Turkey Trot to benefit Zack's Place with a sponsorship contribution and volunteers helping out at the event.
Our members volunteer with a team each year in the Vermont Green Up Day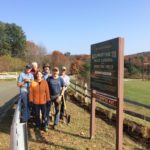 Kilowatt Park Project: A grant was obtained from NAR to create a pocket park. Crew that worked on planting rose bushes include  Front center: Lisa O'Neil, The Clerkin Agency; Left to right behind her: Bill Berry, Better Homes & Gardens Masiello Group, Bill Brown, The Clerkin Agency; Back Row left: Dana Waters, Dark Horse Realty; Matt Spittle, Vermont Horse County Real Estate; and Chris Lang, LandVest Inc.
COVER Will Pick Up Used Furniture and Household Goods Left Behind by Home Sellers
If a member has sold a house and the seller is unable or does not want to take all of the furnishings or belongings in the house, certain items could be donated to the COVER Store in WRJ.  We resell donated items which help pay for nearly 30% of the cost of operating all of our program services.  We have a free pick-up service for large donated items.  Buyers moving into a recently purchased house who might also need to purchase certain furnishings, appliances, cabinets, plumbing fixtures, windows, or doors could be referred to the store.  Our merchandise is priced for the budget shopper.  The store is located at 158 South Main Street in White River Junction.
For donations, contact the store staff: store@coverhomerepair.org
Good Neighbor Award Application
REALTOR of the Year Application